The Children's Aid Committee was established in 1955 as a charitable trust and funding body, providing grant aid to help sustain an effective youth provision for young Jewish people in their leisure time based in London and the Home Counties. It comprises a dedicated team of lay leaders and youth advisors.
Our main priority is to support and improve youth activities for young Jewish people in a variety of settings. We aim to fulfill this priority through the provision of professional advice and grant support for a variety of projects for staffing, equipment, programmes and capital projects.
We have always recognized the changing face of the Jewish community and are continuously examining our funding policies in order to meet the new challenges. An example of this is our decision, sometime ago, to support youth organisations in meeting the employment costs of youth workers.
We fund activities, programmes, staffing and equipment. Our aim is to improve and support the Jewish youth work field. We support activities for children and young people up to the age of 21.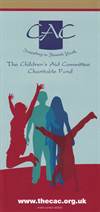 Click on the image to view our leaflet in booklet form.
Or download and print the leaflet PDF.
---
Areas we have supported
Over the years we have provided grants, totalling many hundreds of thousands of pounds to hundreds of organisations, including:
Jewish youth centres
Synagogue based youth clubs
Holiday schemes
Special needs projects
Educational conferences and events
Leadership programmes
Israel Experience scholarships
After school clubs
Residential centres
Youth arts projects
Volunteering initiatives
A West Hampstead teenager has won a national Jewish volunteering award for her work with disabled children and the elderly.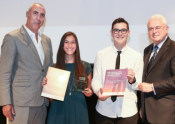 Left to right – Marc Herman, chair of the Children's Aid Committee (CAC), winner Leora Robinson, 18, of West Hampstead with runner-up Ryan Peysner for CAC 18 and under Award, Martyn Lewis event compere, former broadcaster and chairman of the National Council of Volunteering Organisations.
Leora Robinson, 18, won recognition at The Wohl Jewish Volunteering Network (JVN) awards on Monday 08 September 2014 at JW3, in Finchley Road.
Leora started volunteering at Jewish care home Edinburgh House in Wembley after regularly visiting her grandfather there. Inspired by the people she met, she then signed up to work with disabled children at Jewish charity Norwood.
Leora, who received the Children's Aid Committee Young Volunteer Award, said: "It made me happy to see them smile".
Leader of the opposition and Dartmouth Park resident Ed Miliband praised volunteers' "generosity of spirit".
Imogen Blake – Ham&High – Wednesday 10 September 2014
---
The New School and Shuls Initiative
In February 2011 we launched a new initiative aiming to support schools in their provision of Lunchtime clubs and for the shuls in the provision of Saturday afternoon programmes for young people. We believe that both these programmes have a valuable role in enriching the educational and recreational experience of the young people who choose to participate in them.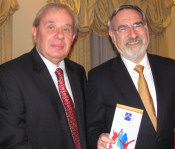 As Patron of The Children's Aid Committee, The Chief Rabbi (pictured here with CAC Chairman Henry Minkoff) is excited about our new funding programme called "The Schools & Shuls Initiative".
This new programme is aimed at financially supporting lunchtime and after school clubs in schools and Shabbat afternoon clubs and activities in shuls.
Schools & Shuls will be able to apply for a grant of up to £2000 (which they will have to match) to help towards the costs of running these programmes and The Children's Aid Committee have allocated £100,000 over 4 years to this project.
---
What do you have to do?
In order to apply for funding, you have to download and complete an application form with the necessary enclosures by clicking on the relevant link.
However, as a word of caution, you must already have a Charity number in order for us to process your details.
---
Professional advice
For information and advice regarding the suitability of your project proposal for funding, please contact our professional adviser Asher Eisen at asher@thecac.org.uk
---